Statement about the Paintings of 2014–2015
My present paintings of mountains and sea are vistas of memory — our America the beautiful. They are meant to glorify our land and honor those people who first lived upon it.
The ocean paintings are based on trips to the Newport, Rhode Island area, primarily Aquidneck Island. I have been visiting the Atlantic shore all of my life, but never thought it possible to actually paint it. I decided to try, since we go there rather often and I find it very beautiful, especially off-season. And besides, I needed a challenge. We are not summer visitors – but fall and winter birds. We walk the beaches bundled up for the blustery winds. I sketch and take photos, then pore over both when we return home. I love the muted colors — I love the sea air, the feel of it and smell of it. I would like these paintings to convey that feeling of the sea, as well as the look of it.
In 2014 my husband, Dirk, and I visited Nevada and Eastern California to see the Sierra Nevada mountains and their magnificent majesty. They are truly quite overwhelming. The geology of that part of our country is fascinating, "newly" formed by great volcanic eruptions that have created huge fissures and jagged peaks.
We were there only a brief time, and it isn't "my" land yet. I don't own it intellectually or visually the way I feel I "own" the mountains of the southwest, or the waters of the east coast. These are different mountains — awesome and foreboding.
I began these paintings thinking that they would become a kind of cloud atlas, describing the clouds over the ocean and the mountains. I am now living in an area where I can see the sky — unlike my other city homes where the sky was always a tiny bit of blue (or white) above the tall trees and buildings. Now that I can see the sky, I am much more aware of it everywhere I go. And the skies over the Atlantic Ocean and the Sierra Nevadas are often spectacular. Yet the more I painted, the more important became the mountains and sea themselves. And the sky took its appropriate place as our great back-drop. Our lovely metaphor for the future, for heaven, for beauty, for goodness, for home and for eternity.
---
Gradual Changes
Changes in my art work are usually seen first in my drawings. For instance, in 2002, I was making works on paper from a single viewpoint yet single image landscape didn't appear in my paintings until 2006. These works I showed at June Kelly Gallery in 2007, and include pieces like "Wallowa Mountain Memory, Variation" and "Our Land." Many of them included patterns or figures on a separate panel, although there was one painting in that show that represent nothing but the landscape "Hear the Voices." In the Ramapo River Series of 2009, there is often a panel which is a flat gold leaf field. There is nothing else, so that the gold replaces the patterns or abstract shape, and refers to a similar kind of separate understanding of space. It is an eternal space rather than a conventional space.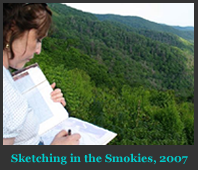 Today, most of my paintings could be described as a single viewpoint landscape, usually with an additional pattern as in the past which is often integrated into the landscape. What do these changes represent?
My painting is not "alla prima." It isn't made in one energetic outpouring of paint. It is, by contrast, deliberate and resolved, like a great meal cooked by a chef. There is a strong belief in current visual art circles that a work is finished, if it conveys the desired idea no matter how rough or "unfinished" it may be. The concept outweighs the thing. In my work that is not the case and never has been. The idea is only a part of the whole and is supported and enriched by the thing (the painting) itself. It is, to use an old phrase, form shaped by content, not content alone. I care very much about how something is made. I care about the craft of painting. The ideas expressed in my earlier statement are not replaced by these thoughts, in fact my stated goals remain. In addition, the idea of beauty has become more and more important to me over the years and I want to engage the viewer in that beauty. I also want them to see my primary message in the work, that is: This is our beloved land, no matter who walks here, no matter who "owns" it. This is our land. Recognize us and honor this land. (2012)